You have a place here. Sure, it's amid the massed detritus of my brain, but I'm a firm believer that having a place is a good thing even if that place is a little crazy. Your comments matter here. We have a good time, and maybe think a little bit, here. You, I and anyone can get a little help, feedback, hope or critique here.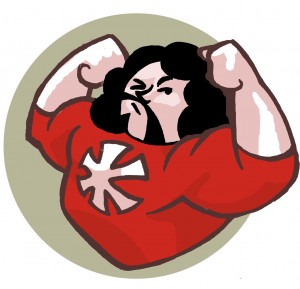 …With Stupendous Humility!
This image is designed to poke fun at the egotistical aspect of having a website with one's name on it. I am no super hero. I'm a Christian, a father, a freelance writer, a counselor and a friend. Though I may have some schooling or some insight into life's problems, I'm merely a tool in the hand of God. Like Duct Tape. You don't need to believe in God–or even like him–to have a place here. Duct Tape works regardless. No matter your bent, and no matter mine, it is the quality discourse which counts. Enjoy the site, one and all. 
Pleasesend me an email or contact me if there is something you would like to see here or a suggestion that you would like to make.  
Please note that the ideas, opinions, insanity and frivolity published here are totally my own and not representing the view of any past or present employer or agency with which I work.
_____________________________________________________________________________________________
Chuck Regan is the gifted artist who renered all these awesome cartoons, in case you wondered. Check him out.