The Outdoor Restore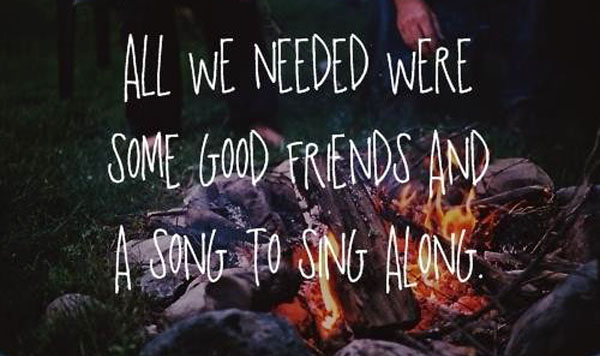 "I go to nature to be soothed, healed and to have my senses put in tune once more."
– John Burroughs, Essayist
Summer air has begun crisping these last few mornings. The call to camp has come, stirring a longing for bonfires, sleeping under canvas and waking to crickets.
And why not?
We've read the benefits of nature in many articles here on KeithKarabin.com, and there will be more to come. But just as camping provides time for reflection, so shall we reflect—with new focus—on how the act of camping can maintain and restore emotional health.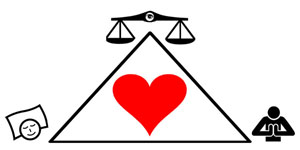 Remember this? The Emotional Health Triangle from Our Power Perspective? It will be our guide.
Perspective
Of course we will start off with Camping, a love story, since camping, truly helps us put things in perspective.
Camping, more than any other vacation, forces a re-evaluation of all that stuff in terms of space you can carry, problems you may face and value of an item. You then are left with only your most valuable assets. You may find your life more focused and streamlined as a result, thus increasing long-term happiness.
Re-evaluating out digital crap pile is a way to increase your happiness in the moment. We immediately made the rule of no computer, laptop, Kindle or TV. The rest was more insidious and personal. I, like many others, am always on the social media. However, Caron Leader, a partner and psychotherapist at aha! (Architects of Human Awareness), said that the best way to enjoy any vacation more is to "Get off the grid."
B-but, my Smartphone!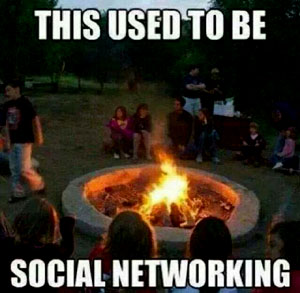 "Breaking news," she asserted "Your Facebook, e-mail, and LinkedIn accounts will be just fine if you log off for a week or two…turn off gadgets and don't allow yourself access to them." (Lund, 2011)
Gratitude
"The evidence strongly suggests that participation in outdoor recreation, particularly as a child, leads people to have more satisfying and fulfilling lives," we learned in Peace Outside, Peace Inside thanks to a lengthy study completed by the California State Parks Commission ( 2005, p.22).
The more fulfilled we are, the more grateful we naturally become as we benefit from "improved mental engagement, increased self-awareness, and clarification of values- all gained through introspection" (CSP, 2005, p.21).
Rest
"The soul cannot thrive in the absence of a garden," Thomas Moore wrote in The Re-Enchantment of Everyday Life, and that very fact is proven true once we step into a forest (1996). Some part of ourselves just opens and says "Ahhh!" Call it the soul, the spirit, the essence—whatever we choose—but one thing is universal, as we read in A Paradise Outside, A Peace Inside, "Numerous studies all point to the same fact; we find restoration and renewal in natural environments. Our heart rates slow, our minds focus, our hearts turn to our more generous natures" (Karabin, 2010). The California State Parks Commission has also noted that creative engagement and expression of spiritual renewal are some of the scientifically documented benefits of outdoor recreation (CSP, 2005, p.21).
Rest in the classic sense is also achieved, since the University of Minnesota reported that studies found being in nature "reduces blood pressure, heart rate, muscle tension, and the production of stress hormones," so we just simply sleep easier and more restoratively.
But that's not the best data that the University of Minnesota had to share. The best news is that "95% of those interviewed said their mood improved after spending time outside" (Larson and Kreitzer, 2016).
Ninety-Five Percent. Almost everyone feels better after being outside.
So let's stop reading and get out there. Just for a moment if that all we have, but if we have more time, let's spend it camping and return restored.
__________________________________________________
Larson, J and Kreitzer, M. (2016) How Does Nature Impact Our Wellbeing? University of Minnesota. Retrieved from: https://www.takingcharge.csh.umn.edu/enhance-your-wellbeing/environment/nature-and-us/how-does-nature-impact-our-wellbeing
Karabin, K. (2010) A Paradise Outside, A Peace Inside. Retrieved from: https://keithkarabin.com//2010/05/27/a-paradise-outside-a-peace-inside/
Karabin, K. (2013) Camping, a Love Story. KeithKarabin.com. Retrieved from: https://keithkarabin.com//2013/08/02/camping-a-love-story/
Karabin, K. (2015) Our Power Perspective. KeithKarabin.com. Retrieved from: https://keithkarabin.com//2015/11/06/our-power-perspective/
Karabin, K. (2016) Peace Outside, Peace Inside. KeithKarabin.com. Retrieved from: https://keithkarabin.com//2016/08/26/peace-outside-peace-inside/
Lund, K. (2011) The Psychology of Vacation. Evansville Business. Retrieved from: http://www.evansvilleliving.com/business/articles/the-psychology-of-vacation
The Health and Social Benefits of Recreation. The Health and Social Benefits of Recreation: An Element of the California Outdoor Recreation Planning Program (2005) California State Parks. Retrieved from: http://www.parks.ca.gov/pages/795/files/benefits%20final%20online%20v6-1-05.pdf