Give the Best Gift Ever: A Marathon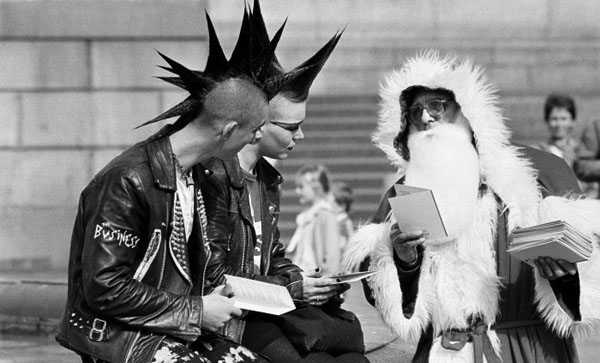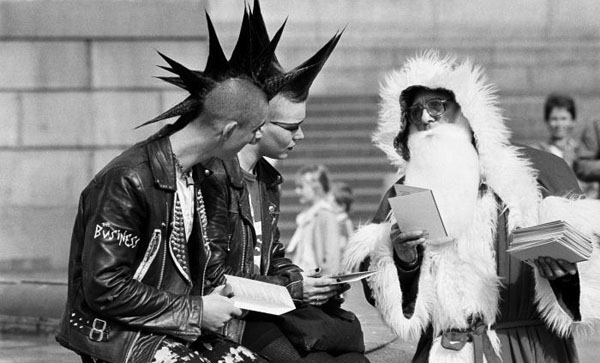 "My boyfriend at the time was studying archaeology and I saved and saved
and studied to get him a very nice field compass…even though we are not together anymore
and even though he's not an archaeologist anymore,
he's a chef with a damn fine field compass!"
– Respondent to the "Best Gift Given" Holiday Gift Research Study, 2015
It was December of 1988 "and I was eager to be on the air as much as possible," WPRB DJ Jon Solomon said in our very first interview (2009). "There was a huge swath of time available on Christmas Eve and I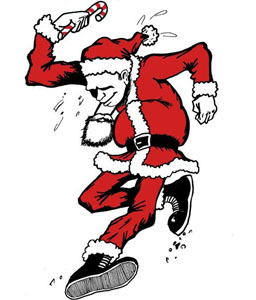 decided I would write my name in and stay on the air until the next DJ arrived." For Jon, WPRB's 25 Hour Holiday Marathon began as "an accidental tradition," when the following year "I decided to go for the full 24 hours."
27 years of annual marathons and a listener-base that stretches the globe stand testament to the reality that something much more powerful than a happy accident occurred that Christmas Eve—and will continue next Thursday.
From Solomon's humble perspective, it was as simple as writing his name in the spot. But look at it, for a moment, from the "huge swath's" perspective and it already becomes something greater. That empty space was made up of DJ's who needed to be elsewhere for Christmas and might have missed out if they were made to work or did so out of duty. Perhaps, if the schedule had remained empty, Princeton would have been subject to a pre-recorded broadcast or closing the station for the holiday.
Solomon wrote his name in 1988 and that action was a gift. Every Christmas Eve since he's given that gift to the DJs, to the station which he's taken a great role in, and to an ever-larger world. Every year that gift gets bigger and better, incorporating new technology and always a fresh playlist—with some classics, of course.
But is it a great gift? And what, in fact makes a great gift? In KeithKarabin.com's first ever Quantitative Statistical Research Study, we used cross-sectional factor analysis to examine what makes a great gift, in reference to the Holiday Marathon and to ourselves. The study was voluntary and focused on a random sampling of both WPRB Holiday Marathon listeners and non-listeners.
The response was awesome, the answers were enlightening and heartfelt, and the data revealed some interesting things.
A Gift in Relationship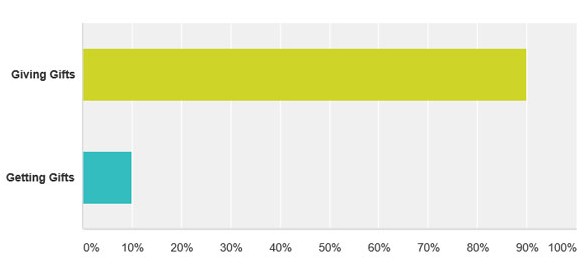 "I didn't think they'd go out and pick one up as I was already in my twenties
and outside the window of giant presents like that.
It was something they didn't have to do, but something really thoughtful."
– Respondent's story of their parents' gift of a "Cadillac Green" Telecaster
specifically searched for to replace their Grandfather's Gretsch guitar,
which they were unable to play when it was sold after his death.
As we can clearly see above, the overwhelming majority of respondents liked giving gifts more than getting them—to the tune of 90%—but the reasons why ranged from "I love to make people happy!" to a more revealing look at how gifts are a reflection of a relationship.
Many people echo the sentiments of one respondent who said that they liked giving gifts more because "I rarely get something I really like but I don't want to be impolite and look disappointed!" which was furthered by a person who felt "if you happen to get a gift that you don't like, you are stuck with it out of an invisible obligation to the person who gave it to you."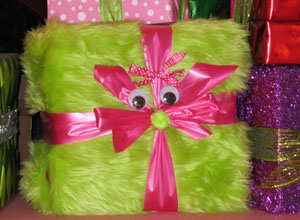 We empathize with both perspectives—that of the giver met with feigned joy, and the getter put in the awkward position of feigning. But the data shows that the relationships behind these gifts are worth the risk of disappointment. For every person who said they liked gift giving better to avoid the awkward feint there were many more who said they liked giving because of the thought that goes into them and how "it's great when the person freaks out over the gift" because "it means I know them well."
It stands to reason that those who seek out the Holiday Marathon's mix of Christmas (and some other holiday) songs that you'll hear nowhere else would fall into the category of those that one respondent called "hard to impress." This can cause a feeling like you are not known well, or that you are hard to know in the first place; a bit of an outsider. I deeply resonate with that.
"There was a time when I hungered for that community," I said in last year's article. "Christmas is my favorite time of the year, but that wasn't the case when I was in High School. I would find any excuse to vacate the home on those Christmas mornings. After the presents were unwrapped, of course. I often felt like a bit of an outsider as a kid, though I had friends, and I would travel my vacant suburban streets listening to punk rock in an old Ford Escort with a plywood speaker box in the back. I'm not sure what I was looking for, aside from an escape. I found WPRB's Holiday Radio Show."
That was 1993. The Holiday Marathon had been going for five years before I was given the gift. But it wasn't the escape I sought, it was the gift of understanding. Of welcome. This music, like the perfect gifts in the study results, had me freaking out saying "You do know me!"
It's not one-size-fits-all, but the gift of the Marathon fits me, my family and thousands of others. "There's a lot of genuine good feelings," Julia Factorial, WPRB DJ and fan, said in Christmas Rock United, "a real inclusiveness that brings people together from…across the world."
The Gift of Ourselves
"I'm realizing now that even though I enjoy giving gifts more, I've never done anything for
this woman to warrant her doing this nice thing for me and I don't feel bad or guilty."
– How a wedding quilt, "blue and pink and brown and…perfect"
given freely from an aunt she never met inspires as much wonder
and appreciation as warmth.
Its one week before Christmas Eve. Many of us may still have gifts to buy, and there's nothing wrong with that. Perhaps we seek the perfect gift like one respondent who found a way for their reindeer loving mother to adopt one from Norway, or maybe we are still trying to get that last paycheck in to buy something special which "the person…would never spend that on themselves but deserved it ten times over!" But if we are frantic, please relax and reconsider. The data shows that hand-made gifts rank higher than store-bought, and that the perfect, most impactful gift is simply to perform a task, service or action for someone you care for.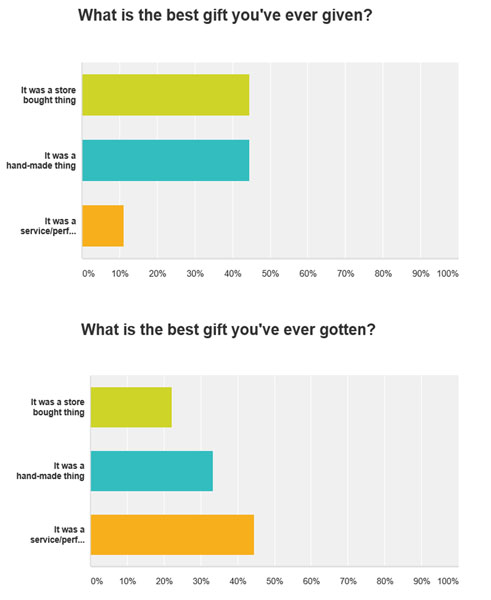 On respondent said that their favorite gift was simply "that my friends would force me to have fun" after a hard year when they would have avoided celebrating their birthday. Another cited the gift of a child who "picked me to write do this school project where he had to pick someone in his family to whom he would write a special Valentine" that came at a crucial time in their life and "is still on the fridge 5 years later. I read it often. It means a lot."
It should mean a lot. But look at the opposite ranking of that item in the results. The same people who said that an action was their favorite gift received, also thought that it was the least type of gift they've given to others. How does that happen? We may be over-influenced by the marketing of the holidays but our hypothesis is that there's joy in performing an action for someone, and that we assume that the joy we feel in performance may mean that it wasn't a chore and therefore not as valuable to others.
"I am always surprised when people say '…but you don't get to have a Christmas'" Jon said, "like this is an unwelcome chore I am doing" (2009). Jon's love of the show comes through on every mic break, in the chat room, on social media and even now, a week ahead, it's on Facebook. That joyful action is part of what unites the audience. Many have heard Jon say that he's already getting music for next year during the current broadcast, or reading liner notes on a band that he found in July and finally got to play. His fun exemplifies a clear trend in the Holiday gift data encapsulated best by one respondent who said "I feel like the 'giving gifts' experience lasts longer: Thinking of your loved one, choosing, shopping/making, wrapping, anticipating…"
That feeling is reciprocated by Holiday Marathon fans on Christmas Eve, gathered around their radio, like a wrapped gift, giddy with "the anticipation that comes with tuning in before the show starts and waiting for those jingling bells (Jon's background music) to start and know that 'My God. Jon is going to be there all night,'" Julia said. "There's always been this aura of 'Wow.'"
Our research has shown that holiday gift giving is driven by mutual, reciprocal anticipation, surprise and delight which brings reassurance that we are known and welcomed by someone. It appears that this shared feeling has brought Jon back to the mic and the listenership back to their multitude of listening devices year after year.
"It is cliché, but I can't imagine being anywhere else on Christmas" I will always quote Jon as saying, "The sense of community at WPRB during the holidays is one I want to replicate over the air, especially for folks who might not be around family and friends during that time of year."
The data has also revealed that WPRB's 25 Hour Holiday Marathon is the perfect gift for thousands of "hard to impress" holiday music lovers. It is a service performed joyfully, hand-made with care and anticipation over the course of the prior year. All throughout those 25 hours the phones ring, the chat chimes and the twitter and Facebook feeds light up with sincere gratitude to the DJ who gives the gift, the station in which it is wrapped, and the rockin' tunes, camaraderie and Christmas cheer which is the gift itself.
The gift of the Holiday Marathon is waiting, wrapped and ready. The mutual anticipation is building…why don't you open it this year?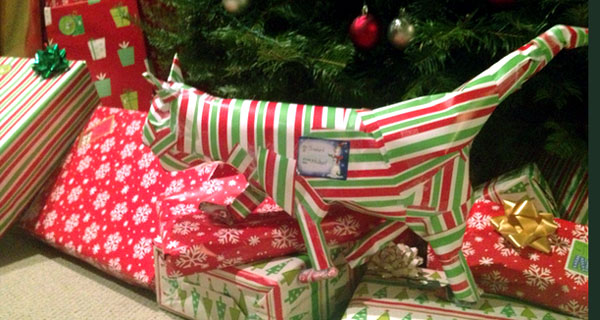 __________________________________________________
*I simply must say a gigantic THANK YOU to all the people who gave their data and more, their stories, to this study. I was truly overwhelmed by your sincerity and endeavored to make sure that everyone had something quoted, while also trying to maintain the anonymity of their story. Again, thank you, and Merry Christmas!