Eating Nun's Farts: Unique Holiday Treats for WPRB's Unique Holiday Marathon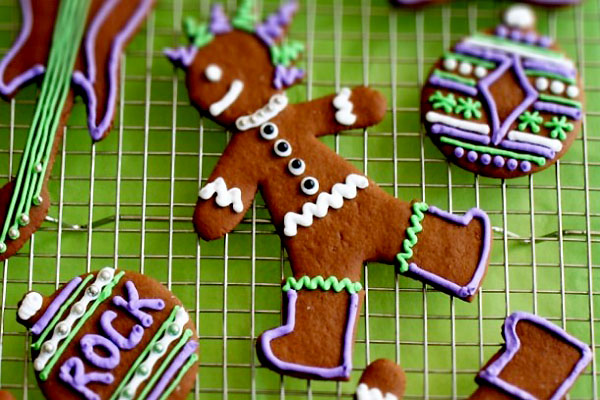 "When it's time to bake big — anything from a 12-inch birthday cake to a day of Christmas cookies to a full wedding cake — preparation and planning will make the day successful and retain your sanity."
– SusieJ, Christmas-baking.com
It's more than a week before Christmas, Hanukah is in full swing, and most of us have already had our first Christmas cookie, latke, egg nog or sufganiyot. Food has power and that power is quite similar to the power of music that we explored during last year's WPRB 25 Hour Holiday Radio Show article. WPRB DJ Jon Solomon, deep in preparations for hosting this year's 25 Hour Holiday Marathon, bows to the power of holiday food by fasting from it. "I actually give up sweets starting the first Monday in December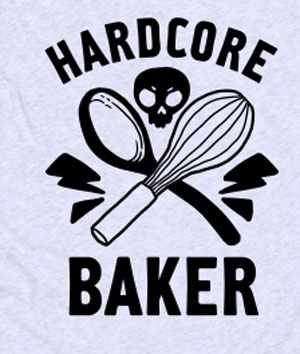 (if not sooner) and don't touch them (or coffee) again until the marathon has concluded," Jon said. Such is his devotion to the physical feat of broadcasting holiday music that you'll hear nowhere else from 5PM Christmas Eve to 6PM Christmas day on 103.3FM in Princeton, NJ. Those who listen will often hear Jon gratefully mention how "many nice folks drop cookies and holiday desserts off at WPRB during the marathon and I always have to pawn them off on others!" since "eating them during the show would almost certainly fell me."
Those desserts are dropped off because, as seen by Dr. Shahram Heshmat of the University of Illinois, holiday comfort foods unite us, they entice us and they remind us of seasons past (2016). This time of year the air is filled with music and the sweet aroma of baking, since both bring the promise of seasonal joy. The "smell of foods can evoke vivid and detailed emotional memories of our past." Dr, Heshmat wrote, and "because odor-evoked memories tend to be positive, the smell improves the mood and produces feelings of social connectedness."
Listeners from around the world connect to Princeton University's WPRB throughout the marathon via the broadcast on 103.3FM, live stream on the web and chat rooms that burst with holiday spirit. Those close enough to do so can't help but express that social connectedness by sharing their treats with Jon Solomon just like another friend or neighbor, and in turn he shares them with a different fan who braved the Princeton, NJ winter for a visit. Thus the baking and trading of holiday fare continues as it has since "the early church" mingled the celebration of Jesus's birth with "the existing seasonal and agrarian religions of Europe" said SusieJ of Christmas-baking.com, baker and expert on things holiday, as to why some holiday treats seem a little peculiar and how "we got cookies with nuts or jam centers, fruitcake, boozy punch, and oranges in stockings" in a creative use of scant available ingredients as those traditions were forging.
We spoke with SusieJ and Jon Solomon about favorite foods, music and their influence on the holidays and posted this article a week early so that perhaps those in the reading and listening audience could have some lead time to bake for themselves. But not just any snow man sugar cookie! The joy of the 25 Hour Holiday Marathon is that it brings together those of us around the globe who enjoy unusual holiday music and are most often themselves unusual individuals. SusieJ was the best source on the net for peculiar holiday baking that is also terrific tasting! After all, who doesn't love Nun's Farts or Placenta Cookies for Christmas? Seriously, read on.
SusieJ possesses a depth and breadth of baking wisdom and eclectic fact that is quite on par with Jon Solomon's knowledge of jaw-dropping holiday music. Her website offers advice, recipes, insights, humor and even drinks to inspire bakers and cooks of all skill levels as well as a treasure trove of holiday lore, including an Advent Cocktail Calendar that is live right now.
Her taste in Christmas music runs the gamut from hymns, to Bing, to "Merry Stupid Fscking Christmas" by Thorazine. The song holds a special place in her holiday heart ever since 2002 when she bonded over some "quick Christmas shopping" with JoAnn Rogan, Thorazine lead singer, as they were both working "for the same consulting company at a job next to [the Oxford Valley] Mall which was too far from Philly for both of us."
Baking Christmas, Baking Christmas!
"I might bring a couple bottles of peppermint seltzer with me to WPRB this year for a refreshing holiday treat that isn't as much like mouthwash as you would fear."
– Jon Solomon, WPRB DJ
It feels like Christmas as soon as Jon plays "Santa Claus" by the Sonics, the traditional inaugural song of the marathon, and there are those holiday treats that also usher in the season from the moment we smell
them in the oven. SusieJ remembers being in her mom's kitchen, baking cookies, listening to "Christmas Wrapping" by The Waitresses, the sweet of holiday eagerness tempered by the salt of "teen longing for life to begin. The entire song is missed romantic connections finally resolved Christmas Eve. The teen years are just waiting for the important things of adulthood to start, including that big romance."
Jon recalled that "My wife makes a pumpkin tart with a dark chocolate crust I love. It isn't too sweet, yet very flavorful and completely unique. It would not be Thanksgiving without it." In fact, he finished the last piece the morning prior to responding to this interview and wished he had more to "get down with" afterward. Here's the link, if your taste buds are already watering, though Jon also noted that his wife doesn't include the spider web in the picture.
For German SusieJ the holiday ushers are Stollen, a loaf-shaped, sugar- powdered cake and delicate Springerle cookies. "The Stollen and Springerle must be baked," she said. "Even the year we married nine days before Christmas, when our oven died as the Stollen loves were going in (hint: pop them in the fridge to slow the rise to a near halt). Everything else changes based on mood, what's available, and free time." Though these "are not unusual for my family" she said, "Springerle and other southwest German treats are unheard of outside the Stuttgart area, in the same way pimento cheese is unknown outside the southern U.S."
"But those aren't the best recipes!" she declared. "That's a chocolate bar cookie I haven't mastered, called 'Peters Mutters Kuchen.' If you know a little German, you translate as this is 'the cake of Peter's mother.' If you know a lot of German, you know 'Mutterkuchen' means placenta." Thus, they are "the cake of Peters Placenta" cookies. But don't be alarmed! "This is thoroughly in keeping with the savory cheese cookies called Kaesefuessle or 'stinky feet,' or the deep fried Nonnenfuerzle, or 'Nun's Farts'!" The links are there, marathon listeners, click-on, bake-on, and rock-on during the marathon. When possible the links are directly to Christmas-baking.com.
As you're munching your new favorite holiday Nun Fart, listening to whatever new musical wonders will be featured on the marathon, think of Jon and remember that the marathon is all about every flavor of the season being accepted and shared. "Honestly, the thing that tastes most 'like the holidays' for me"
Jon said, "is the sweet potato / mushroom / ginger / rice stew Nicole will cook for the marathon. It is now an annual staple and the qualities of it are what I associate with Christmas the most, food-wise."
Whatever the food, whatever the music, if it feels like Christmas; it is Christmas.
SusieJ brings the same priorities to her Christmas; it's not what you bake, it's who you share it with. "It's hard not to go full Martha Stewart" at the holidays, but "the woman had staff and a catering company," she said. "Here are the rest of us with full-time jobs, trying to bake dozens of a dozen variety of cookies, to decorate every room and the entire yard with a different theme each year, to host a party and attend a half dozen more, and find the perfect gift for everyone." When ushering in the holidays with food, turn on the music and "do small projects (lights in the windows!) instead of big projects (decorate the house!) using things you love, with people you love."
Cherish the people, the music and the food because together they are the very personal, always unique recipe for the holidays. Savor the season, even if you're like SusieJ and "savor was never my strong skill; more of methodically nibble my way through an entire cookie tin." Or like Jon after the marathon who must go slowly into the world of treats. "When they come back from her folks' apartment on Christmas Day, Nicole has usually saved me a piece or two of her mom's Buche de Noel. Very dense and tough for my body to handle when we get home on the evening of the 25th. I'll traditionally have a couple of bites at the dining room table and my nose will start running instantaneously."
And as we look back on our season, and Jon already begins to think about next year's marathon, he said "an iced coffee with soy milk and some cinnamon the morning of the 26th tastes divine."
Enjoy it in victory again this year, sir. Happy Holidays to you, to the sagacious baker, SusieJ, and to you all.
Bake on, rock on.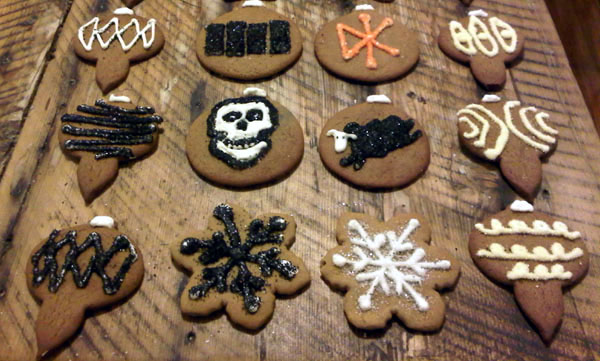 __________________________________________________
* My deepest thanks to SusieJ for her wisdom, her words and her profound enthusiasm for Christmas baking that was like the yeast in this article. Please check her out at Christmas-baking.com, you won't regret it. Always, thank you Jon Solomon for entertaining my questions every year and of course, for sharing your Christmas with the world once again. It is the most generous of gifts.
Heshmat, S. (2016) Five reasons why we crave comfort foods. Psychology Today. Retrieved from: https://www.psychologytoday.com/blog/science-choice/201609/5-reasons-why-we-crave-comfort-foods
The Recipes
Buche de Noel: http://www.foodnetwork.com/recipes/buche-de-noel-recipe-2117923
"Nun's Farts" Nonnenfuerzle: http://ilovegermanfood.com/recipes/schwaebische-nonnenfuerzle/
Pumpkin Tart: https://www.marthastewart.com/314415/pumpkin-chocolate-spiderweb-tart
Peters Mutters Kuchen: https://cookeatshare.com/recipes/chocolate-filled-kuchen-553557 *This was the closest I could find to what SusieJ mentions, the actual recipe may remain a Christmas mystery unless SusieJ posts it on her site.
Springerle: http://christmas-baking.com/springerle.html
Stollen: http://www.christmas-baking.com/stollen_m.html
"Stinky Feet" Kaesefuessle: http://www.christmas-baking.com/kaesefuessle.html