30 Hours, for Goodness Sake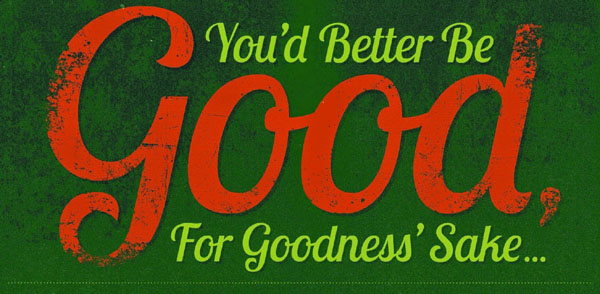 "So be good, for goodness sake!"
– Santa Claus is Coming to Town
Thirty years. Thirty years.
With his first long Christmas Eve broadcast in 1988, as an eager 15-year-old, DJ Jon Solomon has now been captaining the beloved marathon-length Holiday Radio Show on WPRB in Princeton, NJ for thirty years. Thus, the marathon will be thirty hours this year in celebration, beginning at 3:00 pm ET instead of 5:00 pm ET and end at 9:00 pm ET instead of 6:00 pm ET.I'm floored. Maybe I'm Christmas Treed. Or mistle-toed. I've been listening for 25 of those years and I'm mistle-toed.
"I think this idea has always been lingering in the back of my mind ever since the moment the 25th-annual show wrapped almost five years ago." Jon said, referencing when he had bumped up the show to 25 hours. "Being on-air for 25 hours straight didn't feel too different than 24 to me, so at 25 hours the show stayed." Confident that he has at least double the holiday music contentto fill the time "and not have a serious dip in quality control," this year's extended length is to honor the passing of thirty years of broadcasts which, Jon said, "is not an insignificant integer!"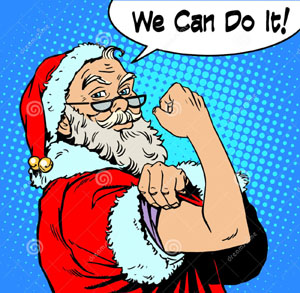 Jon searches for music year-round and has surely found the wildest Christmas songs, but where does the guy get his energy? His determination to stick with this heroic undertaking? Science has shown us that there is real power to be found in the good work of hosting the Holiday Radio Show, and not only does it impact Jon, as DJ, but it has even greater impact in the listening world. I'm writing this article with a heart over-full of gratitude and cheer because, five years into these 30 years of holiday magic, this marathon saved my Christmas. And I'm certain that's true for countless others. This is a circumspect opinion, but I believe Jon's humility would prevent him from saying it this way, so I'll say it:
Jon Solomon saved my Christmas.
Yes, it was the marathon I listened to. But by the time I was an angsty teen Jon had apparently stuck with it for longer than most people go to college. Thirty years later and he's still never given up playing Christmas music that you'll hear nowhere else. I call that a Santa-worthy level of selflessness, will, perseverance and tenacity even if Jon told the Philadelphia Metro in 2003 that "this is something I really enjoy. It's not a chore to me."
The 25 Hour (now 30) Holiday Radio Show is a unique gift fueled by the same generosity and roll-up-your-sleeves goodness that we have inside us and we can harness its power, too. Maybe not by hosting music marathons, but by doing good for others with the passions that fill our heart.
"Gandhi, Mother Teresa, the Dalai Lama -each of them seems to have a supernatural reservoir of perseverance allowing them to do good," said Dr. Kurt Gray, a social psychology professor at the University of North Carolina at Chapel Hill. But it's the opposite, he found. "Yes, it seems that simply doing a good deed, however small, can increase your…capacity for tenacity, self-control and perseverance." Dr. Gray is a pretty funny guy. His TED Talk on the topic is a hoot. He often refers to the physiological energy of doing as gaining "super powers" since he's even found that a single act of goodness will actually increase a person's strength (Gray, 2011). If that's the power in a small act, imagine how much fuel a 30-hour marathon generates.
We're Fueled Christmas Magic
"If I wasn't on WPRB on Christmas, where would I be?"
– Jon Solomon, DJ
Of course, Jon has had his doubts over the years. He believes—and I agree—that self-doubt is an important quality to have especially when you acknowledge it but don't let it stop you from doing good. "Certainly,there are times every year during the middle third of the show when I think,'Oh, my God. I can't believe I'm doing this again.'" Jon continued in the Metro, "But then I'll get a call with some really positive feedback or I'll play a song that I had forgotten about inthe past year and remember how misty-eyed it might make me. That keeps me driving forward."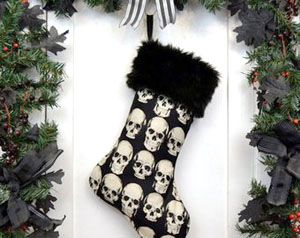 Let's think about our own lives. What makesit hard for you to keep driving forward toward a goal? I'll be open about one of mine. It's Christmas time and I love Christmas cookies. But I have a goal weight that I've been trying to maintain for five years now, which is hard this time of year. Extensive research has found that when I do something good for someone else the resulting flood of endorphin and neurochemicals, called the "giver's high" by psychologists, ignites my brain's pleasure centers and creates a psychological pattern with long-lasting positive effects (Mann, 2017). According to Dr. Gray, "all of a sudden, you start to become that hero" with the power to achieve your goal, be it cookie-avoidance or DJing a 30-hour Holiday Radio Show (2011).
Also, a 2012 study in Psychological Science "found that thinking about times you've helped others will make you want to help others again" which aligns with how, as Jon has said in past articles, his reflections after the end of the current show begin to stoke his fire for nextyear.
But that's just half the story. The other half is the community that has been built over these thirty years, and how the reciprocal generosity of that community, in turn, fuels the man and the marathon. "The thing I really like is that this show has become something that matters a great deal to the WPRB listening audience," Jon told Town Topics in 2003. "Some people have listened to it for years and it's become part of their holiday season, which is fantastic and somewhat overwhelming."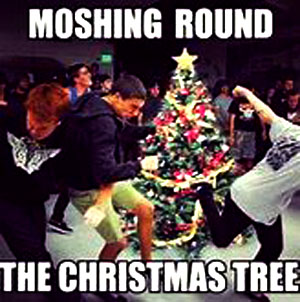 A single act of goodness, like the Holiday Radio Show, has been shown to inspire several more similar acts, according to the research of Dr. James Fowler, professor of medical genetics and political science at the University of California, San Diego. Scientists call this pattern"upstream reciprocity" but I think today I'm just going to call it Christmas magic. Christmas magic that unites a community of wonderful people who fit in to a holiday which is a little more rockin' than Rockwellian and can't help but spread the cheer far and wide.
Now in 2018, Jon finds that "those hours between 2-6 am ET" that he mentioned in 2003 can still be challenging, but "with some dietary changes and more interaction with folks listening on-line overseas for whom my overnight is their morning or afternoon, I've certainly started to think differently about how I program the show during that stretch."
In those still hours of Christmas morning the many WPRB visitors, including Jon's family, DJ's and friends, have left or fallen asleep on the studio couch. Yet, in each part of the world that the music touches, the magic lives. It dances in the phone lines as listeners call to wish Jon "Happy Holidays," request songs and reminisce. It crackles through the Live Chat, Twitter feed, Facebook page and across the world in the web, garlanding listeners beyond the bounds of usual holiday parties to share in the joy of amazingly creative songwriting.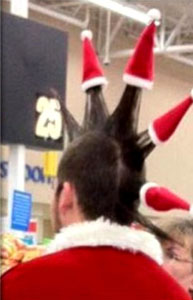 In truth, it's impossible to say just how far the wave of goodness travels from Princeton, NJ, or how wide its impact. That wave began small thirty years ago, but it caught some folk in a form of upstream reciprocity, which thereafter traveled so far and touched so many that it began to return to its epicenter. Thus, a family was born. I am evergrateful for being welcomed into that family as a teenager, listening to the marathon in a rickety Ford Escort with a plywood speaker box in the back or on my old Sanyo Boombox.
For thirty years now, listeners have given the gifts of welcome and cheer,
multiplying the joy of those who revel or raising the spirits of those who may be having a hard holiday (there have been some losses during the marathon). The message boards are lit like Christmas lights by music lovers. Even bands who have found the marathon have gone on to write their own holiday originals or wild covers. In a touching act of giving, listeners have shared pre-recorded personal holiday stories that Jon airs at key points throughout the marathon, further deepening the connections, and the message that Christmas is for all; no matter if you prefer the hardcore version of "In Excelsis Deo."
Christmas After 30
"While I want people to feel like they're hearing all their returning favorites each year, I can't ever allow myself to get complacent and air the same show each December. There's always one more great song that people will love to hear during the marathon out there, and I've got to find it."
– Jon Solomon, DJ
I suppose one can't help but think, "Thirty years, wow. I hope Jon will go on for another thirty!" Well, evidence shows that, fueled by the actual scientifically proven power of goodness, he will have the strength to continue, since "doing good increases life expectancy" improves physical health and general wellbeing and also promotes "life satisfaction and self-realization" (Mann, 2017).
So, what does the next 30 years hold in store?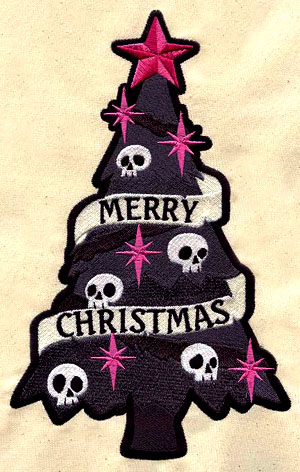 "Perhaps I'll figure out a way to add other special thematic programs on top of the Holiday Radio Show," Jon mused, proud that the ALL HANUKKAH SHOW on his regular WPRB show, The Death of Pop has been going strong for six awesome years. "I still want to play every version I have of Auld Lang Syne on WPRB starting at midnight on December 31st and ending January 1st one year."
Specifically for the 25 Hour Holiday Radio Show, as it will return to the classic length next year, Jon does have another milestone in mind. "The next benchmark is 2022, when my daughter will be nearly the same age I was when I started at WPRB,"he said. "I like the full circle nature of that." Listeners who recall Maggie's rendition of "Frosty the Snowman" and other Christmas morning guest spots may now also be looking forward to 2022.
The future of the 24—no, 25—no 30 Hour Holiday Radio Show is safe, and it is in good hands, as always. It is in our hands, as well, fellow listeners. Jon would surely tell us that he has no super powers. At least, none different than we all have. We have the power to give,we have the power to do good. Doing good for the sake of goodness is what Christmas is all about. Our brains and bodies are designed to be fueled by those good acts, be they marathons or small tokens offered in love.
As Jon was quoted in Town Topics, "It's not what you play, it's how you play it." He will play 30 hours of splendid holiday music this year. That act of personal goodness is his to play. It is my hope that you will play yours, and I will endeavor to play mine. And science, or Christmas magic, will give us the power to do it again, and again, and again.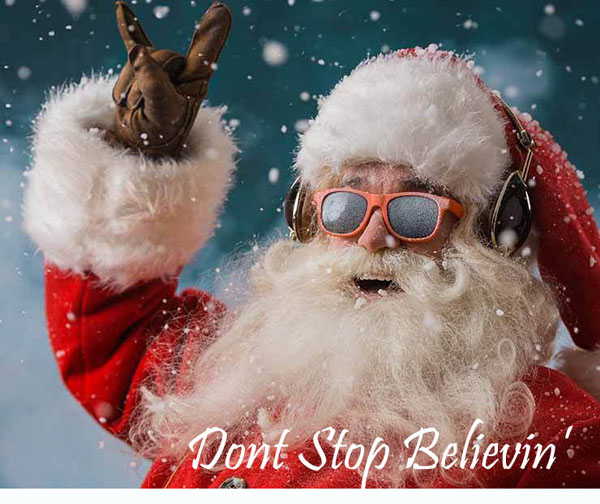 __________________________________________________
*A huge thank you to Jon Solomon for answering my questions this year and making my family's Christmas every year.
Gray, K. (2011) Self-control from Helping Others: Good Deeds Help us Lose Weight and Lift Cars. Retrieved from: https://www.psychologytoday.com/us/blog/minding-morality/201101/self-control-helping-others-good-deeds-help-us-lose-weight-and-lift
Mann, M. (2017) 7 Scientific Facts About the Benefit of Doing Good. Goodnet.com. Retrieved from: https://www.goodnet.org/articles/7-scientific-facts-about-benefit-doing-good
McNutt, D. (2002, December, 18) Princeton DJ Continues 24-Hour Christmas Program Tradition. Town Topics,pp. B23
Smith, M. (2003, December, 24) In the Mix. Philadelphia Metro, pp. 05.