"Allez Cuisine!"



Original

posted on 3/19/08 on Blogger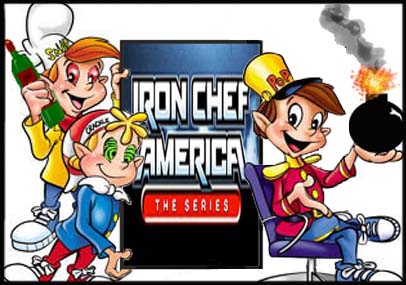 Sunday, February 17th started as any other Sunday in the Karabin house. We woke up, fed the cats, made breakfast, loaded up the wife's Kitchen Aid mixer and ice cream maker attachment into the trunk and hit the road.
What? Something unusual about that? Okay, so in this instance; yes. As Indigo Montoya once said, "lemme 'splain."
We are blessed with some wild and crazy friends and they tend to have wild and crazy ideas. In this case we are talking about Iron Chef Philadelphia: Battle Citrus. For those of you who don't know much about the TV show that is Iron Chef: two chefs face off to make dishes using a secret ingredient that they are only aware of quite soon in advance.
Suzanne and I were a pair of the six judges for our event, held from 10:30AM to 5PM, in the kitchen of one of the would be chefs Philadelphia home. We six judges selected citrus fruit from a list of five possible secret ingredients.
The Rules:Five Dishes would be judged on how prettily they were plated, how tasty they were and how creatively the chef employed a citifies element. No recopies. One ½ hour to think. Two hours to shop. Three hours to cook. ½ hour to plate.
Both chefs had a $100 budget which would be spent at the semi-open air Italian Market that winds its way around 9th Street, the Asian Market at 6th and Washington, and a local Shop-Rite.
I filmed the event—or as much as the camera battery would last—and rode shotgun with one of the chefs as he shopped. I was hoping to share in the excitement of the hunt for the elusive kumquat, the thrill of the chase after the wily starfruit. That wish was fulfilled.
Neither I or the chef had expected was to be the two on-the-scene witnesses of an accident in which a flat-bed tow truck driver hit the bicycle delivery guy of a local restaurant. But we were. I called 911 while the chef directed traffic. Then we both stood sentry around the Latino gentleman as he writhed, held his leg, spoke little English and the concerned Philadelphia motorists almost ran him over a second time in their attempts to get a closer gawk. Interestingly, around eight of his friends or family made it to the scene about 10 minutes before ambulance and police. Statements were taken and no major injuries found, yet the scene was rendered ever more grisly by the macabre splatter of strawberry milkshake—of which there was no hope for recovery.
After that it was shopping as usual. The most interesting being a wild game butcher that was so devout in his pursuit I could only classify him as a meat vegan. Also of note is that the Italian Market is half flea market, half wall street and all cash, the Asian market has nary a sign an American can decipher—including at checkout—yet the Shop-Rite was still the most frustrating of the shopping establishments.
And now, the food.
Chef Russ's Menu: Russ described his plan as an ever increasing level of taste and complexity.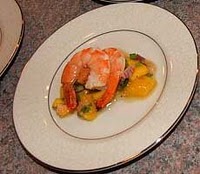 Shrimp served on a bed of grapefruit mango salsa topped with cilantro Bam! That's what it tasted like. Grapefruit and shrimp go wonderful together, as does grapefruit in any salsa. I didn't know this until I ate it, and I swabbed the plate with the shrimp to ensure I had missed none of this fruity, savory, spicy delight.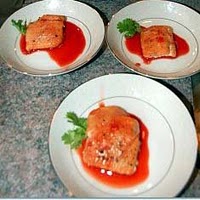 Smoked salmon in fire engine red sauce of blood oranges, lemon grass, & ginger Fish and I are not friends. But thanks to this dish, our love affair has awakened. The tartness of the sauce, the smokiness of the salmon, the stunning colors; I may end up a fish crack-head, ever searching for a dish as stunning as this first one.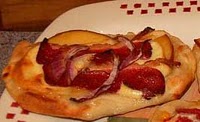 Fire grilled duck prociutto pizza with smoked gouda and orange marmalade Yeah, you think the title is weird? He grilled pizza dough on a BBQ grill. What else is weird; it was tastetacular.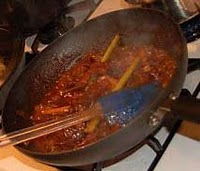 Orange Ostrich, reduced to perfection with a sprinkling of chives Ever have orange beef? Make it with ostrich, add enough lemon grass to the sauce to amp up the sweet-tart of it, then simmer until it's thick as Louisiana love.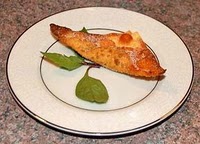 Deep fried wontons stuffed with chocolate orange ganache Hot, bubbling chocolate royale in a flakey, crunchy wonton. Need I say more?
Chef Kelan's Menu: Kelan's plan was to take us on a flavor adventure through a day of citrus themed delight.
Orange zest French toast with whipped cream and fruit saladCute, tasty, and orangey to boot. The subtle flavor of this breakfast classic were truly enhanced by the use of the secret ingredient of citrus.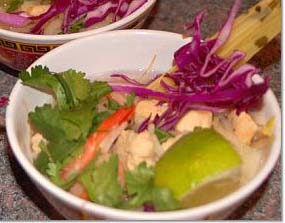 Faux Pho with lime zest and a lime wedge
If the name wasn't enough to get you interested, then the zesty aroma of Kelan's interpretation of this Vietnamese family favorite, along with it's charming plating (in bowls with the tag still on them from the Chinese market) surely would. The fresh cabbage added a nice crunch as well.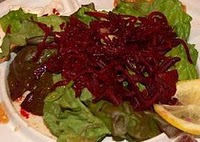 Blood orange beet salad w/ mapled walnuts & goat cheese While it was offered deconstructed (for those of us judges who feared the beet), I found the constructed version wonderfully sweet, earthy and crisp. The tang of the orange balsamic dressing and the mellow creaminess of the goat cheese melded this dish into a salad worthy to be beheld as a main course.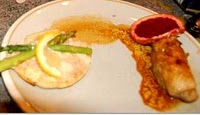 Crab pizza zested w/ lemon & lime. Cardamom tangerine duck & a virgin mojito Though I am neither a fan of duck or crab, both of these dishes were complex, delicious, and well executed. The judges around me who were greater fans of the subject matter had both the closed eyes and delirious smiles of contentment.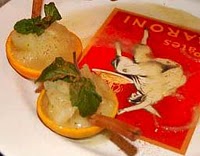 Grapefruit sorbet sprinkled with cinnamon and a sprig of mint What the name doesn't say is "served in a halved tangerine shell." It was hands down the most attractive dish plated that day. Besides that, the flavor was stunning, and the flecks of lemon and lime zest which gently peppered the sorbet added just the right amount of texture to make it an interesting as well as enticing dish. It cleansed the palate and left the judges clamoring for more.
As to which chef came out on top, I will say only this: In the end, it was incredibly tight, and my scorecard had a single point separating the two. I have taken you through Iron Chef Philadelphia: Battle Citrus. More important that our judgment, who would you have judged the Iron Chef?
K