Outdoor Restores Work!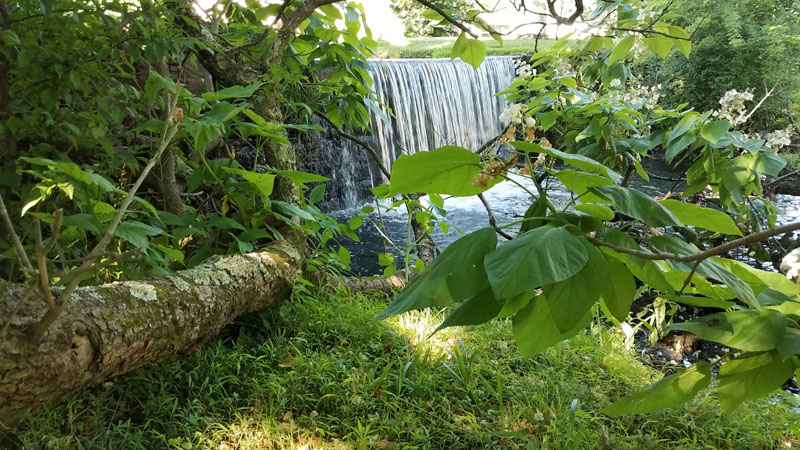 ---
"The goal of life is to make your heartbeat match the beat of the universe, to match your nature with Nature."

– Joseph Campbell,
Professor of Comparative Mythology
---
Key: Guided time in nature will improve life satisfaction, wellbeing and joy.

Living it: Get outside for two hours a week and for the max benefit, do it with an Ecotherapist.

Clinical Concept: Developing a restorative natural relationship via experiential activities and weekly connection with your local environment.
---
You know those mornings when it's bright, crisp with just a kiss of the heat which will surely come later, but for now adds vigor to any walk? Last Saturday was that kind of morning. More importantly, it was the first Outdoor Restore Ecotherapy outing of the summer, focused on life's transitions. I shared the Joseph Campbell quote above with the participants as a starting point for our journey. All the pictures in this article came from our walk.
As Campbell asserts, the goal of life should be "to match your nature with Nature" since in that harmony we find peace, fulfillment and joy, according to Dr Miles Richardson, head of psychology at the University of Derby. In partnership with The Wildlife Trusts they studied over "18,500 people committing around 300,000 random acts of wildness"(spending time in nature). The study showed "a scientifically significant increase in people's health, happiness, connection to nature…for months after…" (Coles, 2016).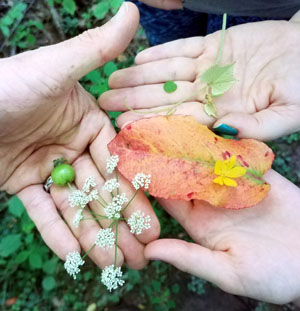 There are transitions in nature every day, every season, every moment. Nature is a flow. We, as people, become comfortable in our routines and transitions can be challenging. "Going for walks, even short ones, is an act of self-nurturing [especially when] it can be difficult to muster the energy to take care of yourself," wrote Linda Wasmer Andrews, renowned medicine and psychology journalist, in an article about how focused time in nature can help people adapt to change and overcome grief. She cited a Stanford study in which participants who walked in nature "reported a decrease in rumination (repetitive brooding over negative feelings), which is a risk factor for depression" versus a group who walked in "a high-traffic urban area" and didn't experience those benefits (2016). Stanford pulled out the tech since those results were even confirmed with brain scans.
The participants in June's Outdoor Restore said that they felt "calmer" more focused on themselves and their journey, peaceful and even "younger." Part of those results may be the activities we did, but, as the University of Derby found, "feeling a part of nature has been shown to significantly correlate with life satisfaction, vitality, meaningfulness, happiness, mindfulness, and lower cognitive anxiety" while building "positive affect and vitality…of a similar magnitude to those found between wellbeing and…marriage and education…and personal income" (Coles, 2016).
In plain English, researchers studied 18,500 people and found that spending time in nature can bring you as much satisfaction, vitality and meaning as having a good marriage, education or income!
---
And Nature for All
---
"Doctors around the world have begun prescribing time in nature as a way of improving their patients' health."

-Knvul Sheikh,
Science Journalist specializing in
biology, neuroscience, health and the environment
---
Getting excited? Good, me too.
Here's more great news. We can get all those benefits for less that 20 minutes a day. Another two-year study from England involving 20,000 people "found that people who spent two hours a week or more outdoors reported being in better health and having a greater sense of well-being." Not to sound like the Sham-Wow guy, but that's not all! "What really amazed us was that this was true for all groups of people," said Dr. Mathew P. White, an environmental psychologist at the University of Exeter Medical School, who led the study. "Two hours a week was the threshold for both men and women, older and younger adults, different ethnic groups, people living in richer or poorer areas, and even for those living with long term illnesses" (Sheikh, 2019).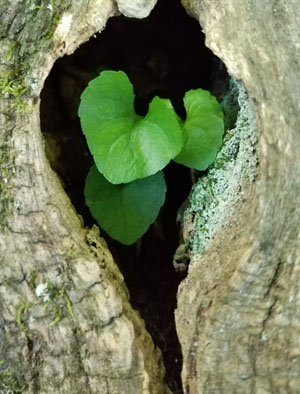 We develop that closer relationship via certain pathways such as contact, emotion, meaning, compassion and engagement with natural beauty according to the University of Derby. "Activities that related to these pathways significantly increased the connection, compared with just walking in nature alone, or walking in, and engaging with, urban environments," they learned (2016). So, while I believe that developing a personal relationship with nature is important, the data shows that maximum benefit is found in some focused, guided activities, just like the Outdoor Restore or other activities with Ecotherapists.
How do we start? Dr. White, Dr. Richardson and I agree.
First, fit it into your lifestyle both in time span and in distance. We don't need to go to a great wonderous forest if there's not one available or devote an entire day and tons of gear. Nature is right outside your door. As an suburban Ecotherapist, I specialize in finding those tucked away nooks of nature right around the corner.
Second, make it a priority right alongside maintaining your marriage, education, health or income. Data shows that our relationship with nature is just as important to our wellness even if our current American culture hasn't caught up with countries like Japan, Sweden and England to name a few. "'There is a need to normalize everyday nature as part of a healthy lifestyle,' Dr Richardson told BBC Earth. The real challenge for the future is how we get more people involved, knowing what we do about the very real benefits of nature," (Coles, 2016).
I'm excited to be part of the natural awakening in America. I'm even more excited to journey alongside you. June's Outdoor Restore was on transition. July's Outdoor Restore is on self-acceptance and August is on self-sustenance. Just click on the link and register and you are half-way to fulfilling your two-hour better health prescription that week.
Let's grow together.
---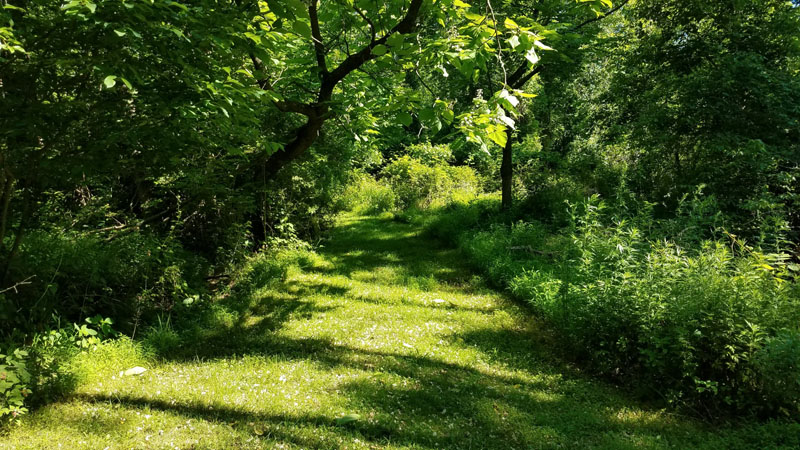 ---
Coles, J. (2016) How Nature is Good for our Health and Happiness. BBC. Retrieved from: http://www.bbc.com/earth/story/20160420-how-nature-is-good-for-our-health-and-happiness
Sheikh, K. (2019) How Much Nature Is Enough? 120 Minutes a Week, Doctors Say. New York Times. Retrieved from: https://www.nytimes.com/2019/06/13/health/nature-outdoors-health.html?register=email&auth=register-email
Wasmer-Andrews, L. (2016) Walking Through Grief and Healing. Psychology Today. Retrieved from: https://www.psychologytoday.com/us/blog/minding-the-body/201603/walking-through-grief-and-healing