Maximum Mexican!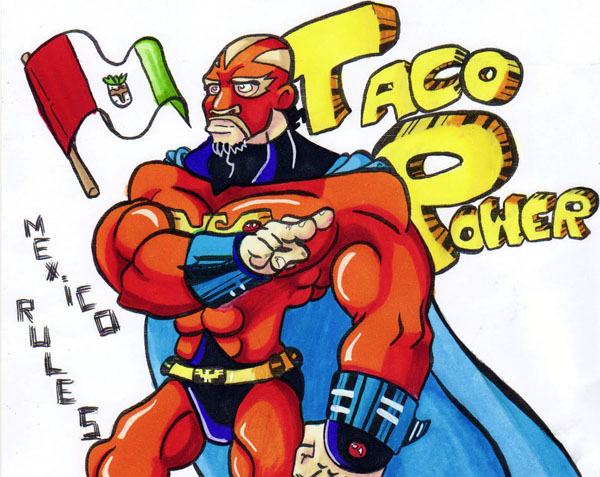 "Anytime there is mexican food around, you can bet I'll be eating it. I'm not a chocolate person and I'm not into sweets. I'm a meal person."
-Eva Longoria
I adore Mexican food every time of year (and, every time of day—even for breakfast) but this is even more true in the Fall. Perhaps it's the colors; the red, black, golden, green and ochre. Perhaps it's the fresh, bright flavors of tomato, lime, cilantro and chili.
But can you still love a Mexican meal as strongly if it's a healthy Mexican meal?
Yes, you Mexi-can if you prioritize what you value most about food. Do you remember your food priorities? (If not, check here) Mine are flavor, volume and texture. First I need to be punched in the face (or gently teased) with flavor, then beaten into submission (or smothered) by a hearty portion, and all the while the experience needs to be interesting to eat—that's texture.
As I noted in the article above, these food priorities are personal, please find your own and tweak accordingly. Or, if mine are the same as yours then welcome, brother or sister to the Maximum Mexican Feast-acular!
As a guide a Maximum Mexican Feast-acular of 6 Kale Tacos, 1 cup of Maxi-Mexi Rice and ½ cup of Cocoa Lime Refried Beans is only 444 calories and 40 carbohydrates. Also, this meal pairs great with the Mighty-Litey Margarita. Shh!
Killer Kale Tacos 

This recipe is just for the meat, with some advice for preparation of the kale "taco." If you do this right, you will get all of the flavor and most of the texture of a taco (not the corn crunch of a hard taco, but definitely some heavy-duty kale crunch) with enough volume to make it worth your while.
Hey, if you hate or fear kale, use Romaine or Iceberg lettuce. I prefer the raw kale for a few reasons.
1) Kale is robust and awesome; it's a tough, tasty leaf with some moxy.
2) The rib which runs the center of a kale leaf is sturdy enough to act as the base of your taco. Just fold the two leaves up around your filling and chomp!
3) The kale is texturally different enough from shredded lettuce so that the lettuce in the filling mingles with the other taco ingredients as appropriate.
1.25oz of meat = 42 calories and 0 carbohydrates. I usually can use about 1/3 to 1/2 that per taco, so do the math. One of these babies is 20-30 calories! The meal detailed above is for six 2/3rd ounce tacos. Six!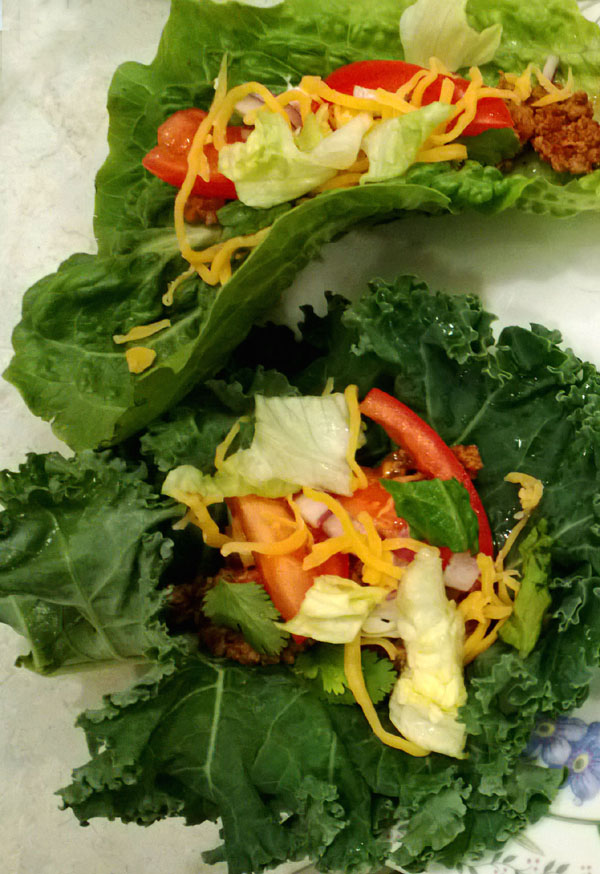 Ingredients
1-1.5 lbs Lean or Extra Lean Ground Turkey
1/3 cup thinly sliced Onions
Long Leaves of Kale, cut to palm length with the rib intact.
Wide Leaves of Iceberg/Romaine Lettuce
Butter flavored frying spray
Worcestershire Sauce
1/3-1/2 cup water
A hefty portion of Chili Powder, seasoning often. Garlic Powder, Basil, Salt and Pepper to taste.
—
Toppings
Chopped Tomatoes and Lettuce
Fat Free Sour Cream
Fat Free Shredded Cheddar Cheese
Directions
Slow cook the ground Turkey, chopping finely in the pan with a spatula. Season with above ingredients often, toss with water, Worcestershire and Butter Spray often so that the water moistens the meat and as the water steams, the seasoning coats the meat.
Once the meat is done, spread some sour cream on a kale or lettuce leaf and pack your taco.
Maxi-Mexi Brown Rice

This rice is so tasty that it could last for days in the fridge, but never does! You get the crisp peppers, the burst of raw tomatoes and salsa, all mixed with hearty brown rice and black beans. It'll fill you up with flavor but not fill you out.
1 cup of this Mexi Marvel is only = 80 calories and 14 carbohydrates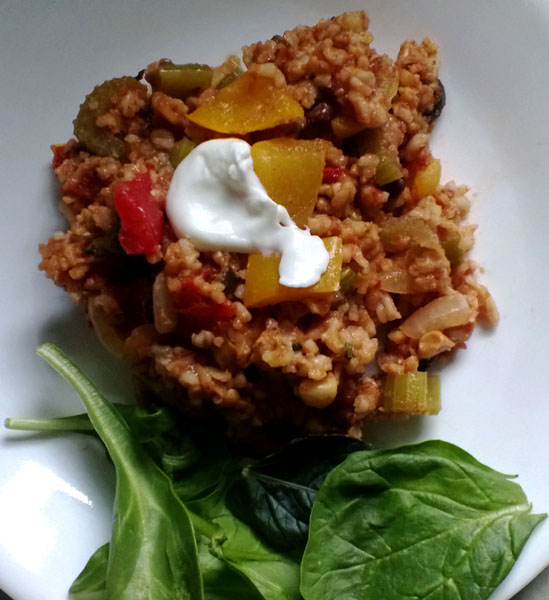 Ingredients
2-3 cups Brown Rice, pre-cooked
1 Yellow/Green Bell Pepper
1 cup Corn and Black Bean Salsa
3 ribs Celery
1/3 rough-chopped Onion
1-2 diced Tomatoes
1/4-1/2 cup Lime Juice
Fresh chopped Cilantro and Jalapeno, Garlic Powder, Cumin, Mexican Oregano, Cayenne, salt and pepper to taste.
Directions
Boil the rice, but keep it a little tough because it will finish in the pan with the other ingredients.
While the rice is boiling, sweat out the onions, celery and peppers in an over-sized stir fry or frying pan. Once the rice is done, toss it into the pan and coat everything with the salsa and spices.
Add the tomatoes 10-15 minutes before the dish is done so that they meld but don't get mushy.
Cocoa Lime Refried Beans
Let's face it, refried beans are three things: Awesome and flavorful but a bit one-note and calorie dense. Texture will be what it is, and volume is a tough one due to the calorie density. So, we use flavor as our weapon, but in this sense it's a rapier, not a bludgeon. Dark cocoa powder (just good ol' Hershey's) adds a richness and complexity to the flavor while making the texture a bit more velvety. Lime brightens and sharpens the whole thing and adds a spark of brightness.
I give you the tablespoon nutritional value on purpose. Try 1-4 tablespoons to start (4 is ¼ cup). Adding flavor should decrease how much of this you need to eat with the meal; try a mindset shift and start lumping refried beans closer to the sour cream, lovingly indulged condiment category instead of the rice category. The meal above is made with ½ cup of Refried Beans, but I'm telling you, less is more with these babies!
1 Tbs = 23 Calories and 4 carbohydrates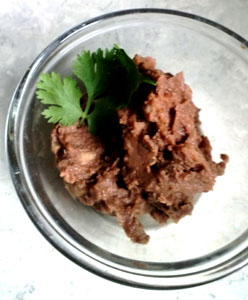 Ingredients
1 average sized can of Fat Free Refried Beans
1 Tbs dark cocoa powder
2-3 Tbs Lime Juice
10-15 pumps of Fat Free Butter Spray
Cilantro Leaves
Directions
Simple stuff, here.
1) Warm the refried beans in a pot or microwave.
2) Stir in cocoa, butter spray and lime juice
3) Stir until well integrated
Thank you for joining me at my Maximum Mexican Feast-acular! Never let it be said that a healthy lifestyle is a sacrifice! This meal should go to show that it's a balance. After all, living well means enjoying what you eat, not just that it's "good for you." So, enjoy already!