Ten Year Holiday Marathon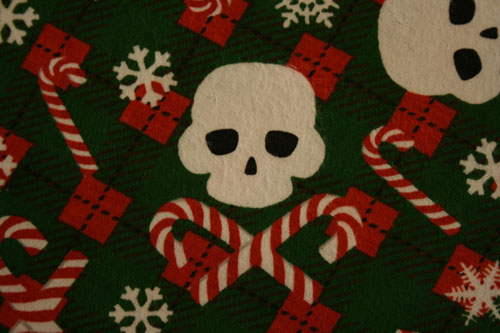 "It's not what you play, it's how you play it."
– Jon Solomon,
WPRB DJ and Helmsman of the 25 Hour Holiday Radio Show
Town Topics, 2018
Last Christmas WPRB listeners world-wide had the honor and joy of celebrating the thirty year of anniversary of the 25 Hour Holiday Radio Show music marathon with its host, Jon Solomon. The marathon rocks from 5PM Christmas Eve to 6PM Christmas day, stuffed like the best stocking with holiday tunes that you'll hear nowhere else.
The music ranges from powerful punk to poignant spoken-word poetry, digital music to rap to an old lady instructing the listeners how to make latkes and so very much more. All holiday inspired recordings; some songs are hilarious, some are inspiring, some touch that tender spot that we're sometimes afraid to share in the season of joy to the world. Beyond the music is the community which has grown to reach every continent but Antarctica—truly, see below—united by a love of eclectic Christmas music, but even more, by the feeling of belonging that has been shepherded by Jon these last thirty years.
I'm blessed to have a much smaller anniversary today, which is why this post is going out on Sunday, not the usual last Friday of the month. Ten years ago today, December 22, 2009, Jon Solomon (a man whom I thought of as a celebrity and all-around stand-up guy—and still do!) responded to my email asking to interview him for my old blog Synapse Crackle Pop! Culture. You'll see below that the Holiday Radio Show was an "accidental tradition." Perhaps that's the way of holidays; you do it once, it touches your heart, and it becomes part of Christmas to you. For Jon, the marathon is part of his Christmas. After 2009, it turns out that writing about the marathon has become an accidental part of mine, and my family's Christmas.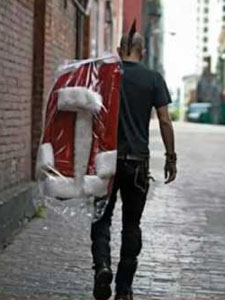 Ten years, ten articles, ten themes. Some really worked, all touched my heart, and many of yours—thank you for the comments over the years! Those who are part of the digital family here know that I'm big on reflection as a personal growth practice. Today, at this milestone and in honor of Jon and the Holiday Radio Show, we reflect on the top ten moments throughout all the articles. I'll give you a quote from the article, and a bit of my reflection. If you want more, just click on the title.
Read on, reflect, and perhaps think of your own holiday traditions. How they started, what they mean, and why they're so important every year.
---
---
---
TEN
"Our research has shown that holiday gift giving is driven by mutual, reciprocal anticipation, surprise and delight which brings reassurance that we are known and welcomed by someone. It appears that this shared feeling has brought Jon back to the mic and the listenership back to their multitude of listening devices year after year. The data has also revealed that WPRB's 25 Hour Holiday Marathon is the perfect gift for thousands of "hard to impress" holiday music lovers. It is a service performed joyfully, hand-made with care and anticipation over the course of the prior year. All throughout those 25 hours the phones ring, the chat chimes and the twitter and Facebook feeds light up with sincere gratitude to the DJ who gives the gift, the station in which it is wrapped, and the rockin' tunes, camaraderie and Christmas cheer which is the gift itself."
Give the Best Gift Ever: A Marathon, December 18, 2015
This article was inspired by the idea to do a study on whether it was better to give or receive. We got the results, but even better, we got wonderful stories from participants and were able to empirically establish the power of Jon's gift of the marathon.
NINE
"I did my first show in September of 1988 and I was eager to be on the air as much as possible," Jon said in our very first interview. "There was a huge swath of time available on Christmas Eve and I decided I would write my name in and stay on the air until the next DJ arrived. The next year I decided to go for the full 24 hours and an accidental tradition was born!" According to Jon, the tradition of the marathon, like Santa, has touched "every continent but Antarctica."
Rockin' the World: The Global Holiday Marathon, December 19, 2014
Jon talked about the listeners all around the world during the 2013 marathon and I was intrigued. I found all sorts of traditions wilder than the music of the marathon including Caganer, a "small figure of a defecating man" that listeners in Catalonia might have in their homes, like our nativity.
EIGHT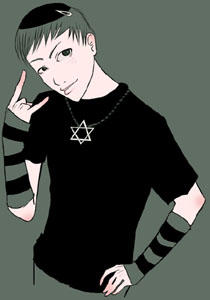 I suppose one can't help but think, "Thirty years, wow. I hope Jon will go on for another thirty!" Well, evidence shows that, fueled by the actual scientifically proven power of goodness, he will have the strength to continue, since "doing good increases life expectancy" improves physical health and general wellbeing and also promotes "life satisfaction and self-realization" (Mann, 2017).
30 Hours, for Goodness Sake, December 21, 2018
How could we all not be inspired by Jon deciding to go 30 hours for the 30th anniversary? I was floored and curious. Is there clinical evidence to demonstrate that acts of goodness can empower the actor? Answer, yes! This quote is one of many in the article, but it's a favorite because I do wish Jon a long and happy life of marathons and more.
SEVEN
"Christmas is my favorite time of the year, but that wasn't the case when I was in High School. I would find any excuse to vacate the home on those Christmas mornings. After the presents were unwrapped, of course. I often felt like a bit of an outsider as a kid, though I had friends, and I would travel my vacant suburban streets listening to punk rock in an old Ford Escort with a plywood speaker box in the back. I'm not sure what I was looking for, aside from an escape. I found WPRB's Holiday Radio Show. I realize now, as a father and a Christian that I was looking to escape an emptiness. The Marathon is a tradition because it has, accidentally perhaps, struck a core of the human spirit at this time of year; the blend of defiance and community of those huddled around a light in the dark. The message is always, 'come, share our fire, you are welcome here…'"
Rockin' the World: The Global Holiday Marathon, December 19, 2014
Sometimes themes come as I write. I know there's something pushing me forward and the theme needs to be uncovered like an artifact, as Stephen King has said. As I researched the different cultural traditions the unifying theme of the light in the darkness came forth. It helped crystalize my thoughts on what drew me to the marathon as a punk kid which was a story I had shared before but never scratched the depth I knew was there. The defiance that is inherent in punk always resonated with me; not standing against authority but standing against all the suck of the world. For me, the marathon welcomed me and helped me see that Christmas is for all long before I came to faith in Christ.
SIX
"By listening you're choosing real radio over every other offering on the dial," said Julia Factorial, lifetime NJ native, WPRB DJ, and fan of the Holiday Radio Show for as long as she can remember. "By listening, you're choosing to hang with a real person for a couple of minutes or hours, instead of a computer-generated playlist that you can't interact with. By listening, you aren't just blanking out on faux sentimentality…you're choosing to hang where there's a lot of genuine good feelings in the room, on the phone, in the instant messages, or emails or chatroom and webcam. There's a real inclusiveness that brings people together from all over the Delaware Valley and across the world."
Christmas Rock United, December 23, 2010
Christmas Rock United is one of my favorite articles because it's all about the fans and the community experience. Also, because of Julia Factorial. She put the power of the marathon into such perfect words. If you've never listened, this quote should inspire you to drop in. The technology she references is from nine years ago—the community is even more connected and vibrant now.
FIVE
"It is cliché, but I can't imagine being anywhere else on Christmas and the fact that so many people close to me stop by just makes it all the nicer. The sense of community at WPRB during the holidays is one I want to replicate over the air, especially for folks who might not be around family and friends during that time of year." – Jon Solomon.
Better Than Santa Himself, December 22, 2009
There it is, the response to one of my first questions to Jon and the one that sets the marathon and his mission in clear focus. I put this quote at number five because I believe that, after thirty years, the ideal of replicating the sense of WPRB community over the airwaves is still central to the marathon and key to its success.
FOUR
Jon's Mom, architectural historian, Susan Solomon said "Bob [Jon's father] and I are avid listeners. We try to listen to the whole thing. I can't say we understand a lot of the music, but we get a thrill out of hearing Jon and how he handles each break." They are not alone in that. Many fans have said that Jon's commentary is the marshmallow goodness in the show's eclectic Rice Crispie treat of music. "When Jon first did the show, it seemed like a fun thing to do. December 25, especially in the 1980s, was a quiet day in a home that does not celebrate Christmas…as the show evolved, two things became apparent. It gave Jon tremendous pleasure to put together something unique each year and to have people respond positively to it; and, that there is a growing world-wide audience that has adopted the show as a new tradition. It is pretty awe inspiring to know that your own kid has created something himself and that this achievement has had an effect on how loads of other folks celebrate their holidays."
The Family Marathon, December 21, 2012
Jon plays everyone's requests and the list grows very quickly on Christmas Eve. So, in 2012 I asked him what his request would be for an article. I was surprised, delighted and humbled by the honor of having him ask me to interview his family members about their impressions and the impact of the show on their lives. I was, and still am, deeply touched that I was able to email with Jon's sister, mother and wife, and got an awesome audio recording of his interview with his daughter Maggie. This article is another of my favorites and I, too, am one of many who love hearing how Jon handles mic breaks.
THREE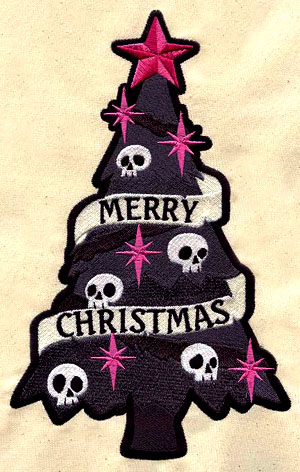 "I love checking in during the night," Nicole said, echoing a sentiment of my own and countless others. "…and hearing the long Christmas-themed stories and the heartbreak and hard times songs that tend to occupy the wee hours. Late night/ early morning on Christmas always has a quiet, timeless, time-stopped feel to it, and Jon gets that. He fills that space perfectly and catching moments of it every year is my secret favorite part."
The Family Marathon, December 21, 2012
Yep, another one. I could've offered at least five more quotes from this article. Listeners know how Jon proposed to Nicole on-air one year. She has welcomed the marathon into their family traditions and helps in many ways, including making Jon his favorite holiday marathon dish. (See Eating Nun's Farts, an article that didn't make the cut but is dandy!) This quote is worthy of number three for two reasons. First, of the picture it evokes; Jon playing songs late at night, Nicole listening in as Maggie sleeps. Secondly, she said that Jon gets the timeless wee hour feeling, and he does, but Nicole gets that! That double-getting of each other makes for a good partnership.
TWO
"We still find comfort in thinking that there is a time of year set aside when peace and happiness are achievable. The music of the season is part and parcel of this…" said Bob Searles. Jon said he's unsure when Searles's "Jon Solomon's Christmas Eve Marathon" "became the de facto theme song of the program, but I'm sure glad it did!" as it was "incredibly flattering" and the first song ever written about the show. The song was born on a 4-track recorder, way back in 2001 when Bob was going by the moniker Noah Vail.
24HR Holiday Radio Show Behind the Music: The Magic of the Marathon, December 20, 2013
As I was writing 2012's article about the fan community I was struck with the idea of writing an article about the musicians and bands that are featured on the Holiday Radio Show and what impact it has had on them. The initial connections for this article started in the summertime and for a moment I felt like Jon, who is always seeking the next great find for the marathon, no matter the season. Bob, as the first theme song writer (there have been many others) was the perfect person to interview. And, in a twist, he interviewed me and turned the notes into a song called "Keith Karabin Christmas" that premiered as a surprise on the marathon—and Jon was in on it! He and Bob new my family's Christmas Eve routine and Jon timed the song to play while we were driving between holiday parties. This is my number two marathon article moment because through this selfless, generous, Christmas-spirited action Bob and Jon had brought things full circle. I had written articles because of the marathon and the music, and now there was music on the marathon about the articles written about the marathon!
ONE
"Jon manages to make it feel like a group effort, by acknowledging the folks checking in via the phone, internet or the chat room, or people who are hanging out in-studio." At the end of the marathon, just like at the beginning when it feels like your part of a crew "fighting the good fight against a lot of crummy things," Jon's candor, inclusivity and sincerity make the audience feel as though they've helped win that fight. It truly is a great, quite Christmassy, feeling.
Christmas Rock United, December 23, 2010
Another quote by the illustrious Julia Factorial gets the number one spot. I think it is the one that I've re-quoted the most over the years. Why do I re-quote it? Because she's right. Being part of the marathon does feel like you're fighting the good fight, like you're part of that light in the darkness, like you've found the Christmas you've been searching for and it's right there on WPRB. So, you stand for it, support it and share it with others because, deep down, you know it's a rare special gift. Or, at least, that's why I do it. I'm motivated by equal parts enjoyment, defiance and gratitude to a man and a marathon that means Christmas to me.
---
---
---
Thirty-one years of marathons this Christmas Eve and ten years of articles. Reflecting, writing this article, there's a feeling in my heart just like the Grinch's. I've written thousands of words over the decade and will hopefully write thousands more, all to try and do honor to this feeling I get as I hear those jingle bells play on a mic break or I sit, usually somewhere in my parents house and listen to Silk Worm's "Merry Christmas" at the end of the show. Thousands of words to really just say the same six words, in different ways, every year…
Thank you, Mr. Solomon, Merry Christmas.
---